Spirit of Swaledale Sponsorship
20 : 09 : 22
---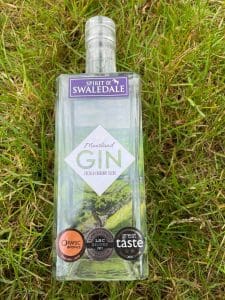 Swaledale Gin to sponsor tup sale championships
The Swaledale Sheep Breeders Association are pleased to announce that they will be working with the "Spirit of Swaledale" Distillery Company for the second year running, based at Greenses Farm, near Muker in Upper Swaledale.
The Spirit of Swaledale flagship tipple is Gin, based on one of the largest expanses of wild juniper in the UK, just on the farm's doorstep.
The inspiration for their ingredients came whilst working on the moors. The flavours are from the landscape surrounding the farm, from the moorland and hedgerows.
Aswell as traditional gin, there is the Hedgerow Pink Gin, the Doctors Gin, Firth Ginger Gin, and also the Old Gang Spiced Rum, the inspiration of this came from the lead mines of Swaledale.
A bottle of gin will be presented to each champion at the forthcoming tup sales.
Spirit of Swaledale
Director:  Ian Purves
Address:  Greenses Farm, Muker, Richmond DL11 6DY
www.spirit-of-swaledale.co.uk
---
Back