Store Lambs – Skipton 22nd September 2022
22 : 09 : 22
---
Newbould Swaledale wether lambs first again at CCM Skipton
Horned wether lambs were in the spotlight at their main seasonal show and sale day which formed part of Skipton's Auction Mart's fortnightly midweek store lambs fixture, when another massive turnout of 8,803 head sold to an overa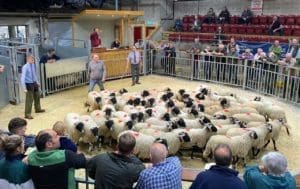 ll average £77.03, with trade on the whole very similar to the previous year and also on a par with recent 2022 sales. (Wed, Sept 21)
Horned lamb show classes were again judged by mart regular, Ian Lancaster, of Wiswell, Clitheroe, and just as he had done in 2021 he again tapped out as his first prize winners Swaledale wethers from hill farmers Paul and Caroline Newbould, of Potter Lane Farm, Dallowgill, with a pen of 52 lambs again reared on heather moorland in the Nidderdale Area of Natural Beauty.
The couple, who run the Moor flock of pure-bred Swaledale ewes – they also breed North of England Mules – had previously also won the same show class when it was last staged in 2019, so their latest success could be termed a memorable hat-trick, the 2022 victors selling at £60 per head.
Doing better at £64 per head was the second prize pen from Pitcastle Estates, travelling south from Glen Lochie in Perthshire, who arrived with a solid run of Swaledale-x tups which sold to a top of £73.50. The third prize winners from Lister Farms in Boroughbridge made £48, while a standalone show class for Cheviot wethers was won by the Pearson family, from Buckden, their 38-strong pen making £69 each.
With a strong entry forward, horned lambs sold to an increased trade, the best Swaledale weithers making £58-£64, while a  total of 2,000 North of England Mule wether lambs averaged £75 overall, the best generally away at £78-£86 up to a top of £87 from the Verity family in Middlesmoor.
Pic caption: Paul Newbould is pictured centre in the Skipton sale ring with his latest first prize Skipton Swaledale wether lambs.
Further info: Robin Moule, 07976-559961, [email protected]