'Swaledales – A Glorious Century'
13 : 09 : 23
---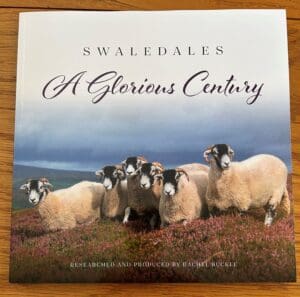 Swaledales – A Glorious Century
The sun shone brightly at Muker Show last week and more so with the launch of a book, 'Swaledales – A Glorious Century', researched and produced by Rachel Buckle, who is Head Secretary for the Swaledale Sheep Breeders Association.  The book was instigated from a suggestion by members, Richard and Anne Spensley, who wrote to the Council of the Association; they felt that 100 years of the Swaledale Sheep Breeders Association was something to celebrate.
The 100th year was actually in 2020, but due to Covid-19 and all the movement restrictions in place at the time, organised celebrations were cancelled, and the milestone passed by.
The Association applied for funding from the Yorkshire Dales National Park through their Sustainable Development Fund, and were successful in obtaining a grant of £5,000 to go towards the production and printing of the book.
Most members of the Association will now be in possession of the book, and further copies are available to buy for £20 each, plus postage and packaging or through retail outlets within the Yorkshire Dales National Park.
For further information, please contact Rachel Buckle on 07958 540 749, or email [email protected].
www.swaledale-sheep.com
https://swaledale-sheep.com/gallery/swaledales-a-glorious-century/
---
Back