Arthur Carter – Past E District Secretary
06 : 01 : 21
---
ARTHUR CARTER
 Arthur Carter (past Secretary of "E" District) of Hollin Bush, Rosedale, formerly of Menthorpe House, Farndale passed away, in hospital, on Saturday 2nd January 2021 after a long illness.  He was married to Betty and father to Janice and Mark.
Arthur served as Secretary to "E" District for 27 years and as he got older being Secretary was his main interest in life, relinquishing the post in 2017 due to ill-health.  He thoroughly enjoyed "crowning", visiting farms on the North Yorks Moors and sampling the hospitality on these farms.  He spent most of his working life helping the late Harold Agar of North Ghyll, Farndale.
He prided himself on his baking, especially fruit cakes.
During the time we worked together for the S.S.B.A. I always found Arthur very helpful and supportive to myself and the then Chairman, Alan Alderson.  I was only invited to attend one "E" District meeting or sale and after that was told that I would be expected to attend without being told or invited.
Arthur was a good attendee at Council meetings and always had the best interests of "E" District at heart.
John Stephenson
4th January 2021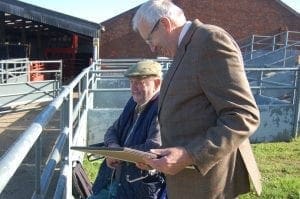 ---
Back